Avoiding Ethnocentrism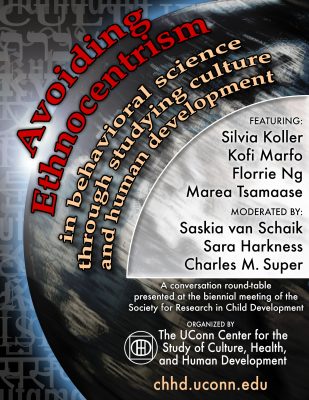 How can an understanding of culture and human development help the behavioral sciences avoid ethnocentrism? In this webinar, presented as a conversation hour at the 2021 biennial meeting of the Society for Research in Child Development, four scholars from around the globe - Botswana, Brazil, Ghana, and Hong Kong - share their views on this topic.
Moderated by researchers from the Netherlands and the USA, the webinar addresses the challenge of constructing a pluralistic developmental science that works for humanity in all its global complexity.
Click below to watch the conversation.
Making Voices Heard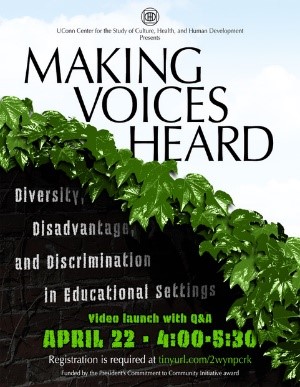 Making Voices Heard: Diversity, Disadvantage, and Discrimination in Educational Settings features diverse UConn undergraduates, graduate students, and young professionals in conversations about their experiences of racism and how we can respond positively to current challenges. The project was funded by an award from the President's Commitment to Community Initiative.
An official launch of the video took place on April 22, 2021, introduced by Vice President Franklin Tuitt, and President Thomas Katsouleas.
CLICK on the link below to see a recording of the event and conversation highlights, or to choose full-length versions of the videos.
Making Voices Heard
The Graduate Certificate in Culture, Health, and Human Development – watch the videos below: